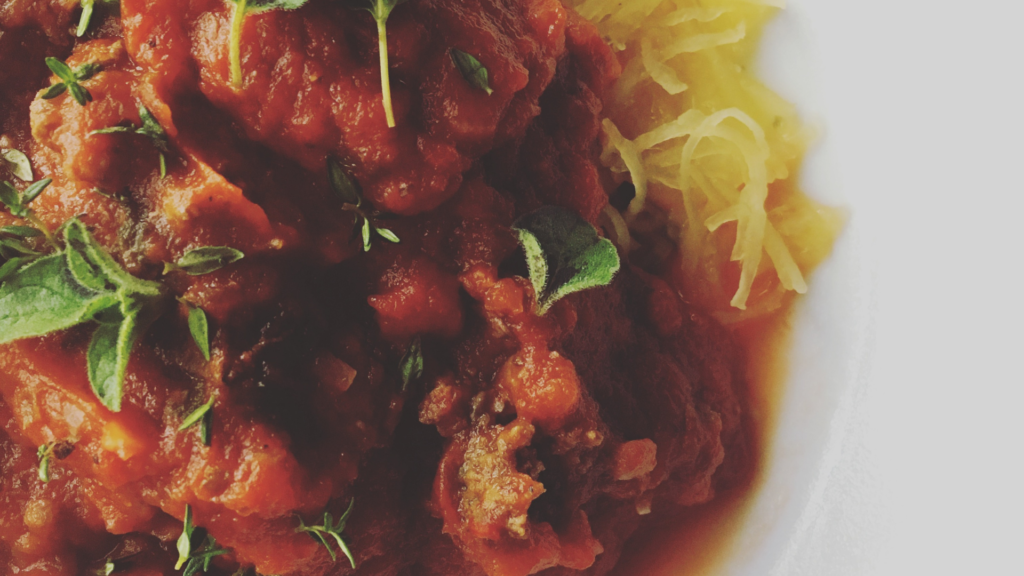 So if you're anything like this gal, you like a plate full of noodles paired with a meaty sauce that beats all… I mean, what could be better, right?!
Seeing that it's below freezing where I am, I figured I should take advantage of the cozy evening and share a recipe that'll make you feel even cozier! The star of this post is one of my top favorites vegetables (in place of the noodles- don't worry! You'll love it just as much if not even more)… squash!I had this for dinner recently and realized it was too good to not share… trust me- you may just lick your plate. 😉
Nutrition Tidbits:Flavor, nutrients, childhood nostalgia (spaghetti with meat sauce was a classic favorite!) and much satisfaction are all what bring this dish together.
Pizzaiola is a delightfully flavorful Italian sauce made up of tomatoes and oregano. When you simmer this with local grassfed ground elk to the mix, you are definitely hitting the jackpot!
Vitamins A, B, B12, C and K; iron; zinc; riboflavin; niacin; phosphorus; lycopene; omega-3 fats… those are just some of the amazing vitamins and minerals you take in when enjoying this fare… brain, heart and gut health benefit.I'd say this was a win-win! But that's not even it!
Lets talk squash!
According to Chef Cary Neff, winter squash is,
"rich in beta-carotene and other carotenoids – which are converted to vitamin A in the liver and intestinal walls – they're also a very good source of dietary fiber, potassium, vitamin C and manganese.Vitamin C has powerful antioxidant properties, helps minimize the risk of heart disease, and helps fight certain types of cancer cells in the body, according to recent research by the National Institutes of Health.Potassium helps the kidneys function normally and supports proper blood pressure. Fiber helps reduce the risk of colon cancer and lowers high cholesterol levels. Manganese is an essential trace mineral that helps produce certain enzymes. Winter squash also contain folate, omega-3 fatty acids, copper, and vitamins B1, B3, and B6, and they have powerful antioxidant and anti-inflammatory properties. Squash is a great source of healthy carbs."
Ready to try this?
Elk Pizzaiola & Spaghetti Squash
Spaghetti Squash
1/2 Spaghetti Squash, seeded
2 Tablespoons Extra Virgin Olive Oil
1/2 Tsp. Salt
1 Tsp. Ground Pepper
1 Tsp. Dried Basil
Pizzaiola Sauce
1/2 Pound Grassfed Ground Elk
1 Can Organic Tomato Sauce
2 Cloves Garlic, minced
1 Tablespoon Extra Virgin Olive Oil
1 Tsp. Dried Oregano
1/2 Tsp. Salt
1/2 Tsp. Pepper
1/2 Tsp. Paprika
Preheat Oven to 425.
Squash1. Drizzle olive oil on spaghetti squash and sprinkle with the salt, pepper and basil.Cover with foil, place on pan and roast 45 minutes or until tender.
Sauce1. Heat olive oil on medium heat and add elk. Cook for 3-4 minutes until barely pink.2. Add garlic and cook another minute.3. Add tomato sauce and the remaining ingredients and simmer on low for 15 minutes.
To Assemble:1. Remove squash from oven and carefully "shred."2. Divide between two plates, scraping all the squash out of the skin.3. Top with the Pizzaiola sauce; sprinkle fresh herbs (basil, oregano, rosemary, parsley, etc.) on for a nice pop of flavor… enjoy!
Serves 2